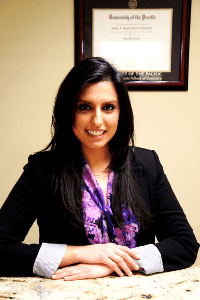 Dr. Davoodian was born in Southern California and raised in the South Bay. After receiving her Bachelor's degree from the University of California, Los Angeles, she continued her passion for dentistry and received her Doctor of Dental Surgery degree from the University of the Pacific in San Francisco. Her passion lies in the art and science of dentistry as a vehicle for helping to better peoples' lives, such that she enthusiastically stays abreast of new dental developments, advances and technologies. She always enjoys staying ahead of current dental trends and is active in continuing her education. She is a member of the American Dental Association, California Dental Association, and Western Los Angeles Dental Society.
Dr. Davoodian, in addition to private practice, is a clinical restorative instructor at the UCLA School of Dentistry, where she works hand in hand with other exceptional dentists to aid students in diagnosis, treatment planning and procedures such as fillings, crowns, bridges, and restoring implants.
Her passion for dentistry is manifested when interacting with patients. She knows the importance of dentistry is most about restoring a worried patient's smile, oral health, and self-esteem. She recognizes that teeth and their health reside at the juncture of form and function. She believes that their quintessence is practical necessity, complemented by a societal standard of aesthetics that epitomizes the beauty of an individual, beginning with the splendor of the mouth.
I learned, in a very intimate way, the physical and emotional suffering caused by living with dental maladies. It was fortuitous that I eventually met a dentist who compassionately listened and gently treated my condition such that today I have the healthy teeth and confidence that enable me to enjoy my life. This personal triumph over hardship was a transformative experience cultivating in me a yearning to help others in the same admirable way I have been treated, through the practice of good dentistry. Martin Luther King Jr. once said that "every man must decide whether he will walk in the creative light of altruism or in the darkness of destructive selfishness." It is this ability to know what it feels like to be cared for compassionately that allows me to empathize with whoever ends up my dental chair.